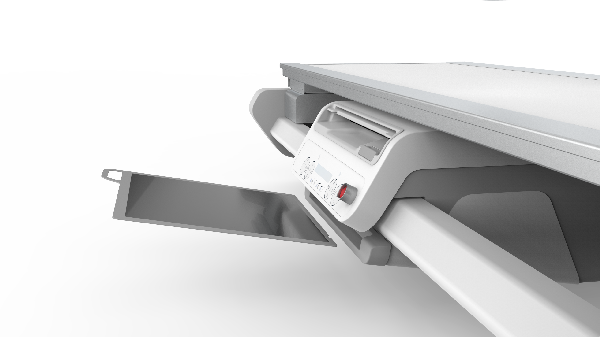 Absolute flexibility
The Platinum dRF (FLEX version), equipped with a flexible, portable, dynamic and extractable detector, provides optimal versatility and is capable of all types of radiography and fluoroscopy examinations. The detector can easily be extracted from the table, an ideal configuration for imaging procedures on patients confined to a stretcher or bed, pediatric imaging, extremities or lateral exposures.
SMART-FLOW
AUTOMATIC SETUP
Auto-positioning of all the table axes, preset of x-ray parameters are available depending on the selected exam and make the room setup fully automated and free up valuable time for the patient.
FILTER CONTROL
Additional filters are automatically controlled according to the examination and the patient's morphology.
TABLE POSITIONING
The «Go-To-Position» and «Get- The-Position» features allow for faster patient positioning, with less dose.
SMART-PILOT
INTEGRATED TABLET
It provides access to table movements and exposition controls as well as patient information.
CONTROL CONSOLE
The control console has been redesigned to match ADAM in order to improve workflow and user experience.
WORKFLOW MOBILITY
A bluetooth X-Ray handswitch allows operators to execute prepositions from anywhere in the room.
SMART-SAFE
REDUCED DOSE
A table created with innovative technologies to allow excellent image quality with an optimized dose.
CYBERSECURITY
Our systems are developed to be compliant with the most stringent requirements and allow us to consider data protection.
REMOTE MAINTENANCE
Remote maintenance via secure software for the table and the acquisition workstation.
A VERSATILE, WIRELESS AND EXTRACTABLE DETECTOR FOR OPTIMAL FLEXIBILITY
Technology Flat panel Csl scintillator
Applications Radiography & Fluoroscopy
Effective array 42 x 43 cm
Matrix 2592 x 2656 pixels
Pixel Pitch 160 μm
AD Conversion 16 bits
DQE @ 0 lp/mm : 65%
Ergonomic design 2 sculpted hand grips & rounded corners
Maximum weight 310 kg uniformly loaded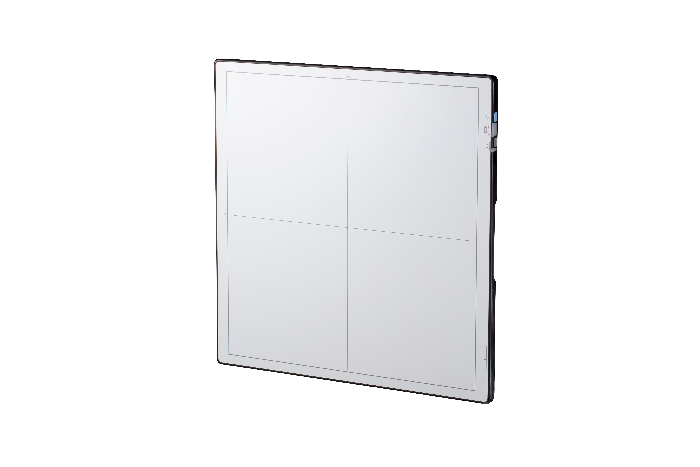 The R/F Workflow Revolution
We are pleased to introduce adam, the new r/f software suite specifically designed to be a modern and efficient tool for imaging experts. adam combines development and design expertise with user experience to define the next generation of r/f workflow.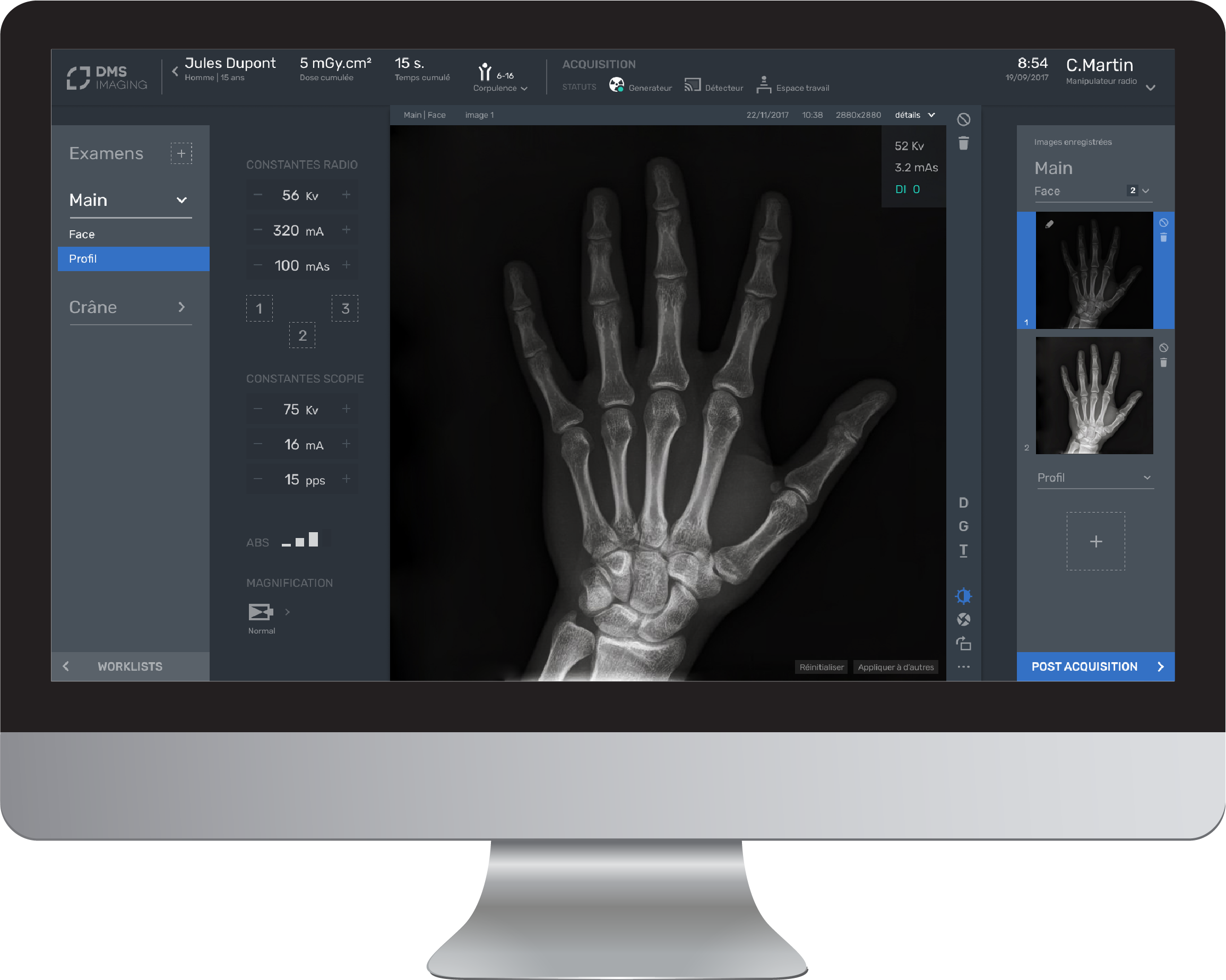 AWESOME WORKFLOW
With its intuitive navigation flow, ADAM provides the right tool at the right moment. No wasted clicks, no wasted time. Informed by user feedback, ADAM's easy, fast and efficient platform is the perfect solution to meet customers' needs.
INNOVATIONS IN DOSE-FREE POSITIONING
Thanks to the Go-To-Position feature, patient positioning has never been so easy ! With a simple adjustment of the LIH image on the monitor, the table will intelligently execute the most optimal movement. Patients can be centered without using X-rays.
MODERN DESIGN
ADAM offers a streamlined workspace, customizable and particularly adapted for touchscreen use.
EXCELLENT IMAGE QUALITY OPTIMIZED DOSE
Radiologists will benefit from excellent image quality resulting from the combination of state-of-the-art detector specifications, and a deep learning algorithm. Our powerful imaging processing tool provides an optimal image even in case of under-exposure, avoiding unnecessary retakes.
The PLATINUM dRF system is a Class IIb medical device manufactured by Apelem and bear the CE marking. It is certified in the European Union under the Medical Device Directive 93/42/EEC by SGS CE1639, exclusively for the indication of radiodiagnosis. Other non-medical uses ascribed to these devices are not within the scope of CE certification, and user should be aware product performance and/or safety has not been evaluated by SGS for those purposes. Read the operating instructions carefully.